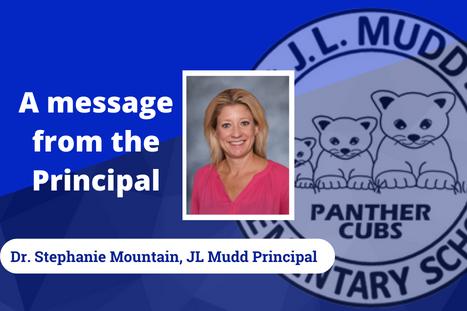 JLM Principal's Corner - November 2022
Dear JL Mudd Families,
Wow! It has been an exciting few weeks here at JLM! We began the month with our Family Reading Night. I am in awe at how many families came to learn strategies to help their Panther Cub become the best readers that they can be. Please remember to reach out should you need guidance with any of the strategies/activities that you and your student worked on. I am a true believer that it takes all of us, working together, to grow our kiddos into the best learners and leaders that they can be.
Last week, we had the extreme honor to recognize our Veterans with a small breakfast and a parade of appreciation. It made my heart so happy to see the cards the students made for the Veterans and their faces as they cheered in the halls as the Veterans walked past them. This day was an excellent example to our students of what a true leader is!
Soon, we will break for the Thanksgiving holiday. With that in mind, I would like to express how thankful I am for having the opportunity to be a part of this community. Everyday, I have the privilege of walking through the doors to the most wonderful school and the gift of watching your kiddos grow as learners and leaders. Thank you for sharing your child(ren) and your family with me.
As always, if you have any celebrations or concerns, please do not hesitate to contact me.
Have a wonderful and relaxing Thanksgiving.
Most Sincerely,
Dr. Stephanie Mountain
Principal